What's up, Splinters! I hope everything is great and well.
---
Sup! I hope everything alright for you guys.
With the coronavirus out spreading to the world, I started to work from home and somehow created more free time for myself :P.
With more time, I choose to spend some tiny time to play one of my favorite game Splinterlands.
As the new set of reward cards was introduced, I expect there is gonna have turbulence on players' card set.
More cards implied that more variation, hence much harder to expect the opponent strategy.
But that the point of this game right?
Stay healthy!
---
My main goal now has changed to accumulate DEC, and completing the daily quest is more like a side quest. My short target of DEC balance is 25K. As I intended to continuously contribute to the Guild.
---
我希望你們一切都好。
隨著冠狀病毒的傳播到世界各地,我開始在家工作,以某種方式為自己創造了更多的空閒時間:P。
隨著時間的流逝,我選擇花一些時間玩我最喜歡的遊戲Splinterlands。
隨著新的獎勵卡套的推出,我希望玩家的卡套會出現動盪。
更多的牌意味著更多的變化,因此很難指望對手的策略。
但這遊戲的重點是嗎?
保持健康!
---
我的主要目標現在已經改為累積DEC,完成每日任務更像是一個副任務。 我的DEC餘額的短期目標是25K。 因為我打算繼續為公會做出貢獻。
---
Today snapshot of DEC Balances
今天的 DEC Balances 快照
013020 - DEC Balance: 5,955
Wow reached the 25K target and now still growing! Keep it running!
---
As always here is my daily reward from the daily quest. Comment to this draw:
Wow! 3 of a kind! This new reward card looks good. However, not really valuable tho. Anyhow, very nice!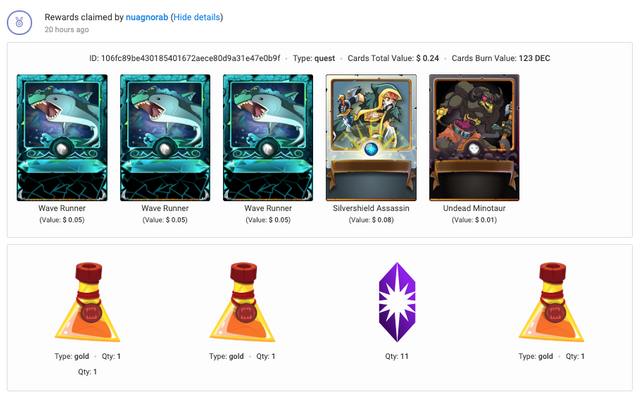 ---
Interested in one of the best Cryptos games that can earn coins while playing?
Splinterlands is fun and lets you earn crypto that can convert back to Steem, Tron and many more with the help of partner exchanges.
---
Splinterlands 很有趣,可以讓您賺取可以轉換成 Steem(STEEM) 或 Tron(TRX) 的加密貨幣 - DEC 。
對好玩而又可以賺幣的加密貨幣遊戲感興趣?
Come join us on Splinterlands! https://steemmonsters.com?ref=nuagnorab
---
Cheers