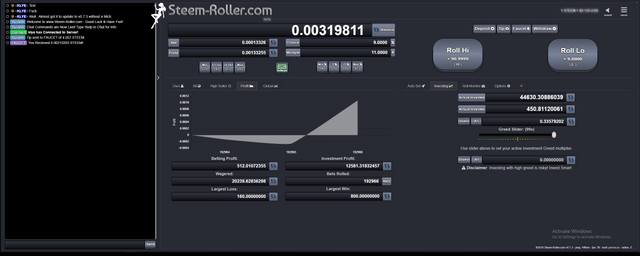 ( a screencap from Steem-Roller.com showing off the new GUI launched today as well as the faucet payout & real-time profit chart )
Super stoked to announce that the upgrade from the previous version of Steem-Roller.com to the new v0.7.3 has been completed and is now available online. Users of the old version of the site may notice a new GUI, a new faucet that pays out Free STEEM every 5 minutes and a real-time profit tracking chart that will update as you roll showing how much profit you have earned in a session. Currently still very much in open beta testing so expect some quirks, bugs and odd occurances.
What's New in Steem-Roller.com v0.7.3?
This update brings a number of changes to the site, the most prevalent or important features are listed below in order to showcase how to use them or in order to inform users of the site that these new features are available. Please keep in mind the site is in open beta testing and these new features may be prone to bugs.
The Free STEEM Faucet

The biggest upgrade this patch is likely going to be considered by most to be the implementation of a new STEEM faucet. This faucet will pay users some STEEM every 5 minutes or so with the amount of STEEM being paid out directly tied to the amount of STEEm wagered on site and the amount of bets that user has placed. In more technical terms it is the betting frequency and intensity that dictates the size of compensation that Steem-Roller.com users can receive every 5 minutes from the faucet. As it sits their is no limit to the amount of times a day that a user can claim, the only constraint is the 5 minute timer between claims, leading to an available 288 claims a day for those with the time to claim every single available claim. In order to claim the faucet login to the site and click the "faucet" button as seen below:

After you click the "faucet" button a popup modal will appear showing you the balance of the FAUCET account, how much STEEM you can claim as well as a timer with a countdown on it. The countdown between claims is 5 minutes as has been stated above and starts once you've logged in to prevent abuse of the timer: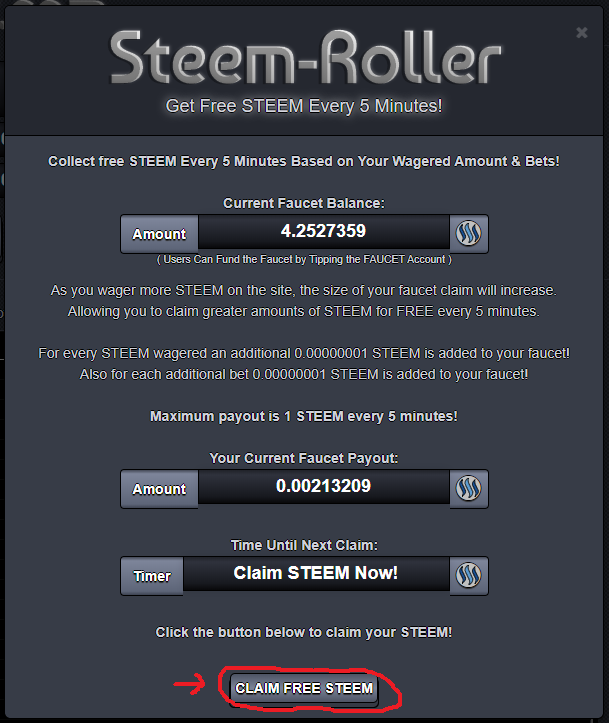 Once the time until next claim input displays "Claim STEEM Now!" you can click the button below that and your faucet amount will be directly tipped to your account which will also reset your claim timer to 5 minutes. In order to claim the faucet your balance must be 0, if you have STEEM in your balance it will not allow you to claim.. However a work around to this is to put your balance into your invested amount of the bankroll and then claim. This is the sites answer to token mining through bets that other STEEM casinos offer, however you won't find Steem-Engine.com hype tokens here, only cold hard STEEM being paid out as an incentive.
The Real-Time Profit Chart

A neat feature not mimicked on many other cryptocurrency games of chance the real-time profit charts updates each bet in order to somewhat accurately provide feedback on the current gaming session. While the faucet was relatively easy to implement and optimize the real-time profit chart still has a long way to go before it's optimized properly. Their are some early reports of this feature causing a bit of client side slow down after about 750 rolls which is being looked into. Although as it sits for the average gambler provides a neat method of seeing where they are in the session profit wise. Eventually buttons to export the image of the profit chart as well as some optimizations to help combat the slowdown caused by redrawing a graph with hundreds of data points in real time. The real-time profit chart can be found on the "profit" tab on the left bottom section of the site.
In addition to the real-time profit charting some other things that have changed with this version of the site are that now bets under 0.001 STEEM are subjected to 800ms (millisecond) delay in order to prevent users from spamming STEEMtoshi bets in order to level up their faucet faster as well as ensure responsive gaming to gamblers betting larger amounts of STEEM. A little easter egg for those of you still reading here is that you can click the "online:" number near the bottom right of the site to see a list of users actively betting.
The Known Issues
The mobile display / optimization is still garbage on the site and with the implementation of the real-time profit chart a user actively testing the site on a daily basis @cowbay has noted their is potential for some slowing down of the client side stuff after around 750 bets. These are things that will be worked on in the next release, which should be v0.7.4 set to be released January 1st 2020. We may see small stability sub patches before the beginning of the new year depending on how many errors are found and how further development goes. While the site is still in open beta testing we're trying to provide a playable and investable experience.
The SPS Proposal to Fund Further Development

( click the image above in order to visit the Steem-Roller.com SPS Proposal and vote on it, please )
An SPS proposal has been made in order to help alleviate the current state of poverty that the site developer is experiencing while building the site. A fast method to go and vote for this proposal is to visit https://steemproposals.com/proposal/60 and go use SteemConnect or SteemKeychain in order to vote for my proposal. I'm hoping to get a small 69 SBD a day pay in order to help feed and shelter myself. It only takes less than a minute to vote and every vote helps!
Thanks for Reading, Voting and the Support
See you on the Steem-Roller.com, Enjoy the Faucet!
---


Looking for an Affordable, Secure & Reliable Server Host for Your STEEM Witness Server or Other Web Related Projects? Check out Privex.io!