Dear brothers and sisters in Christ
Today the Golden Censer has given me a message from the Gospel of Saint Matthew, in which he tells me that I must strengthen my faith on solid foundations so that it is not demolished by the difficulties that arise throughout my life.
The message of the good news that Jesus brought us, in which he reinforces the teachings of the Bible, thus makes us know, He did not come to abolish the law, nor the commandments given by God to Moses (Matthew 5:17), but to show us the love and mercy of his Heavenly Father towards men in which his message is that we must in addition to comply with the above, we must give our testimony and love to our neighbor as ourselves. This is explained from the words given by Jesus himself, reflected in the gospel according to Saint Luke.
27 "But to you who are listening I say: Love your enemies, do good to those who hate you, 28 bless those who curse you, pray for those who mistreat you. 29 If someone slaps you on one cheek, turn to them the other also. If someone takes your coat, do not withhold your shirt from them. 30 Give to everyone who asks you, and if anyone takes what belongs to you, do not demand it back. 31 Do to others as you would have them do to you.
32 "If you love those who love you, what credit is that to you? Even sinners love those who love them. 33 And if you do good to those who are good to you, what credit is that to you? Even sinners do that. 34 And if you lend to those from whom you expect repayment, what credit is that to you? Even sinners lend to sinners, expecting to be repaid in full. 35 But love your enemies, do good to them, and lend to them without expecting to get anything back. Then your reward will be great, and you will be children of the Most High, because he is kind to the ungrateful and wicked. 36 Be merciful, just as your Father is merciful. (Luke 6: 27-38)
All this taken into action in love makes our Faith solidify and it remains firm despite the problems and adversities that we face.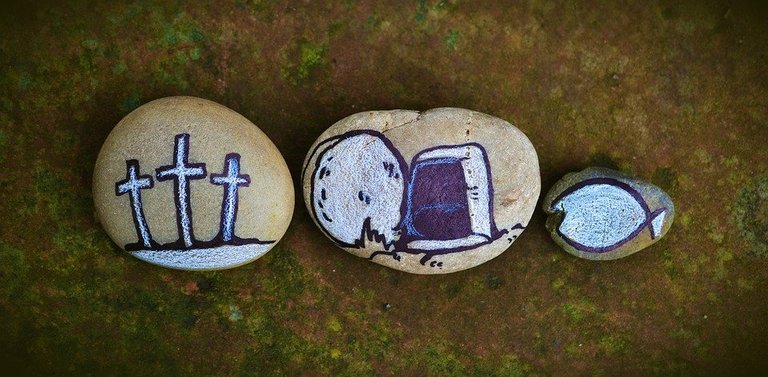 Image source pixabay.com
We face difficult times in which, already waiting for the second coming of Christ, we are clearly seeing the signs of the times in which God encourages us to change and take firm steps in our Faith, bringing words of life and serving the living water that represents our risen Lord Jesus, who with the outpouring of his Holy Spirit brings peace and love to humanity.
Amen
Memo:
The foolish man builds his house upon the sand. The rain came down, the streams rose, and the winds blew and beat against that house, and it fell with a great crash. Matthew 7:26-27

[screenshot @felixgarciap]
Receive my affection and blessings.
Connect with HeartChurch
In the HeartChurch community we have technological tools and spiritual guidance available in which an outstanding place is represented by the contributions of its members and the power to share musical expressions with the psalms that lead us to share the love of Christ beyond our borders.
A first step to access the HeartChurch Community and be able to enjoy the added value of our Community is to complete the affiliation to our services through a simple data registration process, in which we will immediately be registered in an account Blockchain Telos with our user from whom we would receive a daily message from the sacred scriptures and a universal basic income (UBI) consisting of a Heart token based on TELOS technology. From there the parishioner will have access to our digital channels in which, in addition to sharing the word, he will meet brothers from all over the world.

[Image autorized by @heartchurch Community]
The goods that we receive and those that we can give through our incorporation as members of the HeartChurch Community will give us the joy and Peace that our Lord wishes for our lives and also the opportunity to help other people anywhere in the world.
We continue to Reach to the World
I am proudly a #Heartchurch member.

[Use of Image authorized by @Heartchurch]
#sbi-skip