This is "Time" one of the greatest songs by the well-known band Pink Floyd. it was released in 1973 and it's from their album "The Dark Side of the Moon".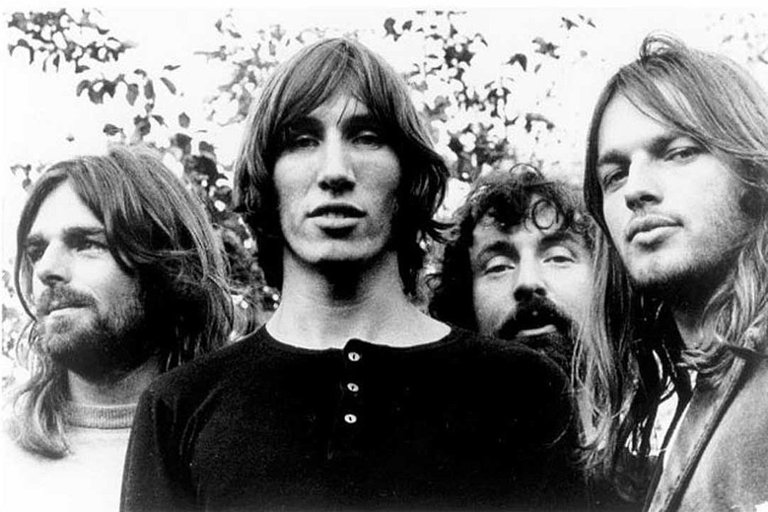 The song starts with FX sounds (Pink Floyd mostly loves to create special sounds and record sounds in an experimental way) in the beginning of the song you can hear the sound of a clock, it is like you are inside a clock and you can hear how the gears are moving inside it. a little further you can hear clocks ringing (those sounds are also like a Church's Ring) but what it means is about the clock and ringing sound of a clock) then you can hear a kind of clock tick-tock song which can remind you of how fast the time is passing. along with that sound, you can also hear instrument sounds of Electric Guitar and Percussion.
The song keeps going forward and we can hear the melodic sound of a Rhode piano which plays answering melodies to the guitar melodies. at 2:16 the band starts playing full instruments with a drum fill and then the vocalist started singing with a powerful voice and shouting. what I hear is an amazing rock music style from the '70s which is full of passion (an amazing Psychedelic Rock music) the way they play guitars and keys together is really awesome. I also love the part where they sing harmonies at 2:48, the back vocals are also perfect. after that part there is a solo section, performing a crazy lead guitar which you can feel it with your soul. in 4:44 the second verse starts again and the last climax ends and it is like a fresh start from that point. I can also hear some female back vocals which are singing amazing back vocals in that part.at 5:40 I can hear a sudden change in the music which it can show that it has the progressive rock genre in it too. and it sounds awesome.
The idea of this song is about Time and it was written by Roger Waters, He was feeling something and it was about how fast time is passing and most people won't feel it until it is too late for them. and that's how he felt it and said about it in interviews when he was at the ages of 28 and 29 years old.
I hope you enjoyed listening to this song and reading my post,
Regards,