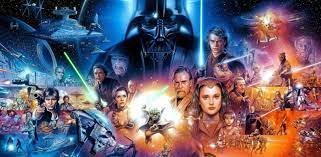 FUENTE
Saludos amigos para los que somos seguidores de la magnífica o celebre saga cinematográfica Star Wars creada por George Lucas, se escogió el día 4 de mayo para festejar la creación de esta obra maestra. .
---
Greetings friends for those of us who are followers of the magnificent or famous Star Wars film saga created by George Lucas, May 4 was chosen to celebrate the creation of this masterpiece. .
---
Es un día para festejar se realizan distintos desfiles o concentraciones de fanáticos a nivel mundial pero la pandemia nos ha obliga a estar encerrados, por esta razón decidí escribir es una manera de hacer un homenaje o recordar tan emblemática fecha. .
---
It is a day to celebrate, different parades or concentrations of fans are held worldwide but the pandemic has forced us to be locked up, for this reason I decided to write is a way of paying homage or remembering such an emblematic date. .
---
Fue una gran película con actores originales y un reparto extraordinario un despliegue de efectos especiales sus intensas escenas de acción donde su trama principal siempre fue la lucha del bien contra el mal, Una película que logro transcender atraves del tiempo fueron pioneros en estética espacial y batallas intergalácticas algo majestuoso a nuestra vista. .
---
It was a great film with original actors and an extraordinary cast, a display of special effects, its intense action scenes where its main plot was always the fight of good against evil, A film that managed to transcend through time they were pioneers in spatial aesthetics and battles intergalactic something majestic in our sight. .
---
La saga fue desarrollada en 7 episodios donde se desarrolló toda la trama hasta llegar a su fin, unas con más popularidad que otras según los distintos críticos y opinión de sus seguidores. .
---
The saga was developed in 7 episodes where the entire plot was developed until it reached its end, some with more popularity than others according to the different critics and the opinion of its followers. .
---
Los protagonistas en esa época eran totalmente desconocidos, se convirtieron en ídolos generaron una gran fanaticada, eran portada de revistas eran invitados a todos los programas de televisión , era los temas de conversación de cualquier reunión nadie imaginaria que se estaba gestando el principio de una nueva generación que transcendería con el tiempo. .
---
The protagonists at that time were totally unknown, they became idols, they generated a great fan base, they were on the covers of magazines, they were invited to all television programs, it was the topics of conversation of any meeting, no one imaginary that the beginning of a new one was brewing generation that would eventually transcend. .
---
La banda sonora de la película fue creada por Jhon Williams para mi este señor es un maestro de maestros fue un creador de un clásico de todos los tiempos para mi es insuperable fue algo que nos conectó directamente al espacio sideral, las incesantes luchas el sabor a triunfo que deja la lucha donde el bien prevalece algo único. Es mágico ver cómo han pasado 44 años y aun el tema sigue vigente como vemos las saga una y otra vez , como la película sus personajes sus Robot se han convertido en temáticas de fiestas desfiles obras de teatros, musicales y pare de contar hoy es un día memorable para nosotros los fanáticos.. .
---
The soundtrack of the film was created by John Williams for me this man is a teacher of teachers he was a creator of an all-time classic for me it is unsurpassed it was something that us directly to outer space, the incessant struggles the taste of triumph that leaves the fight where the good prevails something unique It is magical to see how 44 years have passed and even the theme is still valid as we see the saga over and over again, as the movie its characters their Robot have become themed parties parades plays, musicals and stop counting today is a memorable day for us fans .. .
---
Gracias por leerme
thanks for reading me