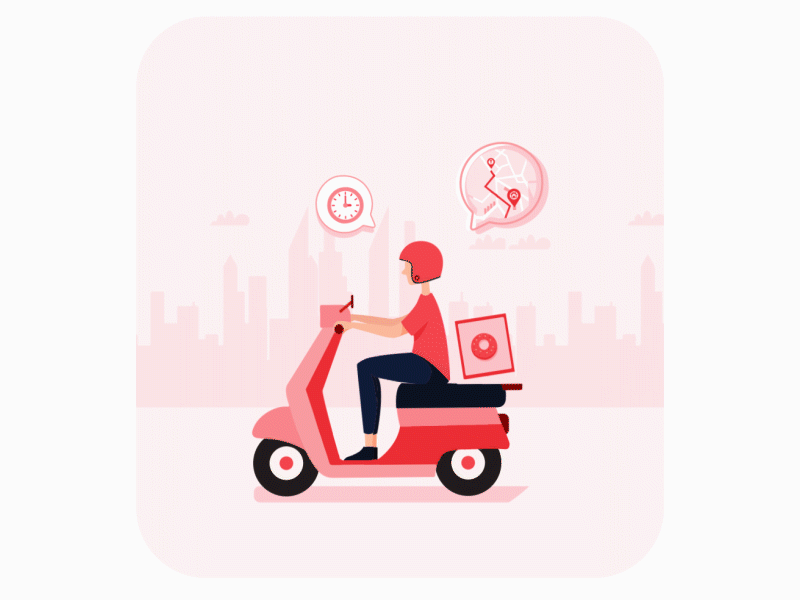 📸 Fuente | Source : dribbble.com | Animation by Yash
---
       Saludos estimados Hivers, el post que les comparto hoy tiene que ver con el servicio de Delivery o entrega a domicilio, el cual en mi país, Venezuela, a raíz de la pandemia del COVID-19, es hoy en día un emprendimiento que viene creciendo en muchos sectores de la economía, se está desarrollando un tejido de oportunidades en medio del caos donde la tecnología es el gran aliado entre comerciantes y consumidores.
      Dear Hivers, the post I am sharing with you today has to do with the Delivery service, which in my country, Venezuela, as a result of the COVID-19 pandemic, is today an undertaking that has been growing in many sectors of the economy, a fabric of opportunities is being developed in the midst of chaos, where technology is the great ally between merchants and consumers.
       Con el fin de minimizar la propagación del COVID-19 , el servicio de Delivery llegó en el momento más oportuno para quedarse un buen tiempo, en el caso de Venezuela este servicio viene posicionándose a una velocidad muy rápida, y lo mejor de todo es que el crecimiento se viene dando de manera orgánico y sostenido gracias al acompañamiento de la tecnología, en mi entorno social y profesional he sido testigo de como amigos y familiares con diversas profesiones y oficios, ahora son desarrolladores de aplicaciones y de plataformas tecnológicas que hacen la vida más fácil a las personas en estos tiempos tan virulentos.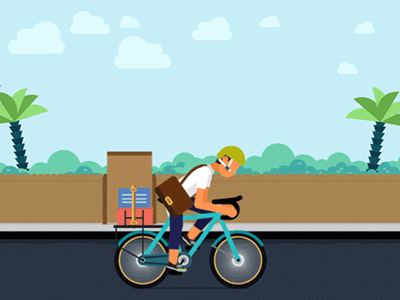 📸 Fuente | Source : dribbble.com | Animated by Gaber Hanafy
      In order to minimize the propagation of COVID-19 , the Delivery service arrived at the most opportune moment to stay a good time, in the case of Venezuela, this service has been positioning itself at a very fast speed, and the best thing of all is that the growth has been occurring in an organic and sustained way thanks to the accompaniment of technology, in my social and professional environment I have witnessed how friends and family with diverse professions and trades, are now developers of applications and technological platforms that make life easier for people in these virulent times.
       El fenómeno del Delivery ha llegado como un salvavidas a muchos venezolanos, puesto que muchas personas se quedaron sin su empleo formal al inicio de la pandemia, y ahora están reinventando sus modelos de supervivencia y de negocios en función del sentido de la oportunidad que se ha abierto en el mercado con las entregas a domicilio, también la modalidad del Pick up ha sido una excelente alternativa, ya que para la adquisición del bien o servicio, el consumidor puede utilizar una aplicación en el smartphone para realizar la compra, y recoger el pedido en el local del comercio; ahora si posees una bicicleta, una moto o un vehículo es posible sobrevivir en términos económicos y surfear la ola de los cambios para generar ingresos.
      The Delivery phenomenon has arrived as a lifesaver to many Venezuelans, since many people were left without their formal employment at the beginning of the pandemic, and now they are reinventing their survival and business models based on the sense of opportunity that has opened up in the market with home deliveries. The Pick up mode has also been an excellent alternative, since for the acquisition of the good or service, the consumer can use an application on the smartphone to make the purchase, and pick up the order at the store; now if you own a bicycle, a motorcycle or a vehicle is possible to survive in economic terms and surf the wave of changes to generate income.
       También las oportunidades se han abierto para los comercios que en medio de la pandemia se quedaron sin clientes, ahora gracias al servicio de delivery o pick up, comercios, empresas de entrega a domicilio y consumidores se benefician unos y otros con la oferta de servicios y productos para generar transacciones con diferentes medios de pago, entre los que destacan un amplio portafolio de posibilidades, donde el uso las criptomonedas viene creciendo día a día en Venezuela ...
      Opportunities have also opened up for businesses that in the midst of the pandemic were left without clients, now thanks to the delivery or pick up service, businesses, home delivery companies and consumers benefit from each other with the offer of services and products to generate transactions with different means of payment, among which stand out a wide portfolio of possibilities, where the use of crypto currencies has been growing day by day in Venezuela ...
En medio de toda dificultad hay una oportunidad


Albert Einstein
In the midst of every difficulty there is an opportunity


Albert Einstein
 
Translated with www.DeepL.com/Translator (free version)




---










Original Content by @jakim7

Copyright @jakim7 | All Rights Reserved

Animated Banner Created By @zord189