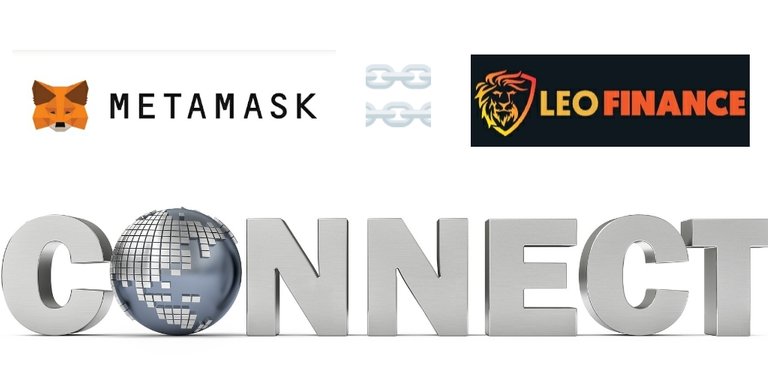 It could be the start of the most incredible journey. A life changing experience for both upcoming and established writers. There are so many opportunities for members of https://LeoFinance.io to earn an income, I hardly know where to begin the explanation!
One thing is certain: Starting this journey costs nothing but a few seconds of your time. IF....you have a MetaMask account. The simple transaction to verify and connect your account costs 0 ETH.
You don't have an account on https://metamask.io/ ? Setting one up takes only a matter of moments. The video below explains why having one is a good idea.
Sounds interesting, doesn't it? Scroll down for a guide to the MetaMask -> LeoFinance quick step signup process! But first, a bit on why it's worth your time.
LeoFinance - A Valuable Resource For Writers & Vloggers
The internet is changing rapidly from one day to the next. You could feel it in your bones before. Now, it's become apparent right before your eyes.
Established sources of income through Google, Facebook, Twitter, and other media outlets no longer offer a safe harbor. While profits on these platforms are still viable for content creators, their very foundations are now cracked.
How can you grow or build a successful business when the foundation is faulty? People do it just like they always do, until the earthquake hits. Censorship, banned accounts, and suspensions without reason have become par for the current course.

LeoFinance Has HIVE Structural Shock Support Beams
What does that mean? It means that your writing and your videos are always safely stored on the HIVE Blockchain.
That's right! When you take 30 seconds to signup to LeoFinance through your MetaMask browser, you will also create an account on HIVE! Two birds, one stone. "HIVE provides a permanent and immutable blockchain where your content cannot be altered or removed.
For you who may be new to cryptocurrency, the quick MetaMask to LeoFinance signup routine removes the roadblocks to entry.
Ownership keys and root phrases are important in crypto, but this gives you time to learn about them as your journey progresses.

Publish To Earn LEO (And HIVE) & Swap It For Ethereum
Stop right there for a moment. Did you catch that? When you publish on LeoFinance, you also have the opportunity to earn HIVE. I mentioned at the start that there were SO many opportunities to earn an income as a member of LeoFinance.
HIVE is the base for that. LeoFinance is the conduit to many lines of profit. You can take the rewards you receive in LEO coin and swap them immediately into ETH in your MetaMask wallet.
But you might not want to do that. LEO tokens and LeoFinance in general are on a growing upward trajectory! Check out this recent article on the increasing traffic coming in to LeoFinance.io.
https://leofinance.io/hive-167922/@inalittlewhile/where-is-traffic-to-leo-coming-from-stats-by-simple-analytics

Earning LEO & HIVE - How It Works
There are complexities to the HIVE reward system I won't get into here. But not as much on LeoFinance! Rewards received from HIVE are on a voting system, curved by time of vote. LeoFinance works the same way, minus the voting curve. Let me explain in more detail.
When you publish a post on LeoFinance, it also is published on HIVE. This gives any member of LeoFinance or HIVE a chance to vote for your work. You also earn when you vote on other people's work! But votes are worth different amounts.
The amount your vote is worth depends on how much LEO or HIVE tokens you decide to stake in your wallet. Staked tokens are still your tokens. They can be unstaked back to liquid tokens on a timed weekly counter.
It's the same way for every account. The more you stake, the higher your vote reward. When you vote for other people's work, it's called curation. And on LeoFinance, you earn half your vote back upon payout. Payouts occur seven days from the time a post is published.
Oh yeah. Your vote power will drain down, but it replenishes over time free of any cost to you. Staking to a mid-value level account (or higher) allows you to control the weight of your vote and manage your vote power.
A MetaMask To LeoFinance Signup Guide
So you're ready to become a proud member of LeoFinance. Here's how easy it is to sign up through your MetaMask browser. To get started, open MetaMask on your device and open the MetaMask browser.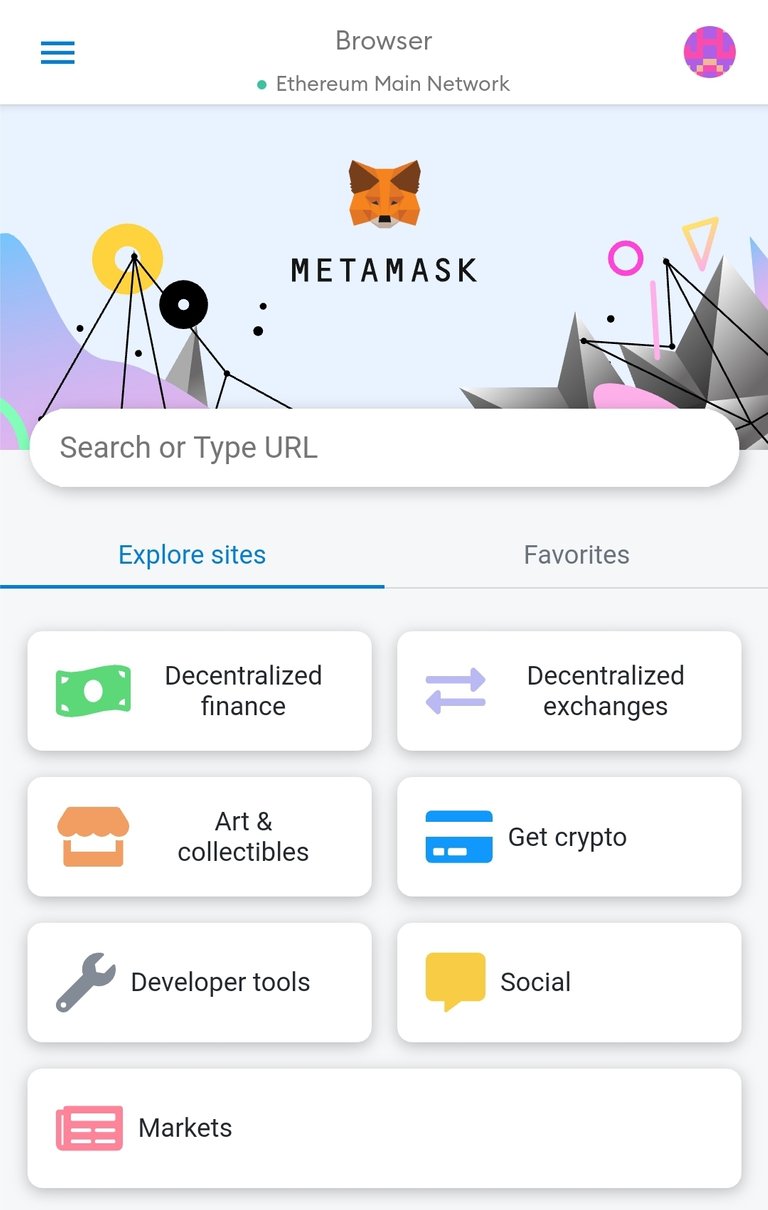 Next, copy the LeoFinance web address (https://LeoFinance.io) and paste it at the top where it says, "Search or Type URL". This will bring you to the LeoFinance home page.
Select the yellow tab at the top of the LeoFinance home page where it says, "Get Started". A box will appear with the option to signup with MetaMask. See it in the image below.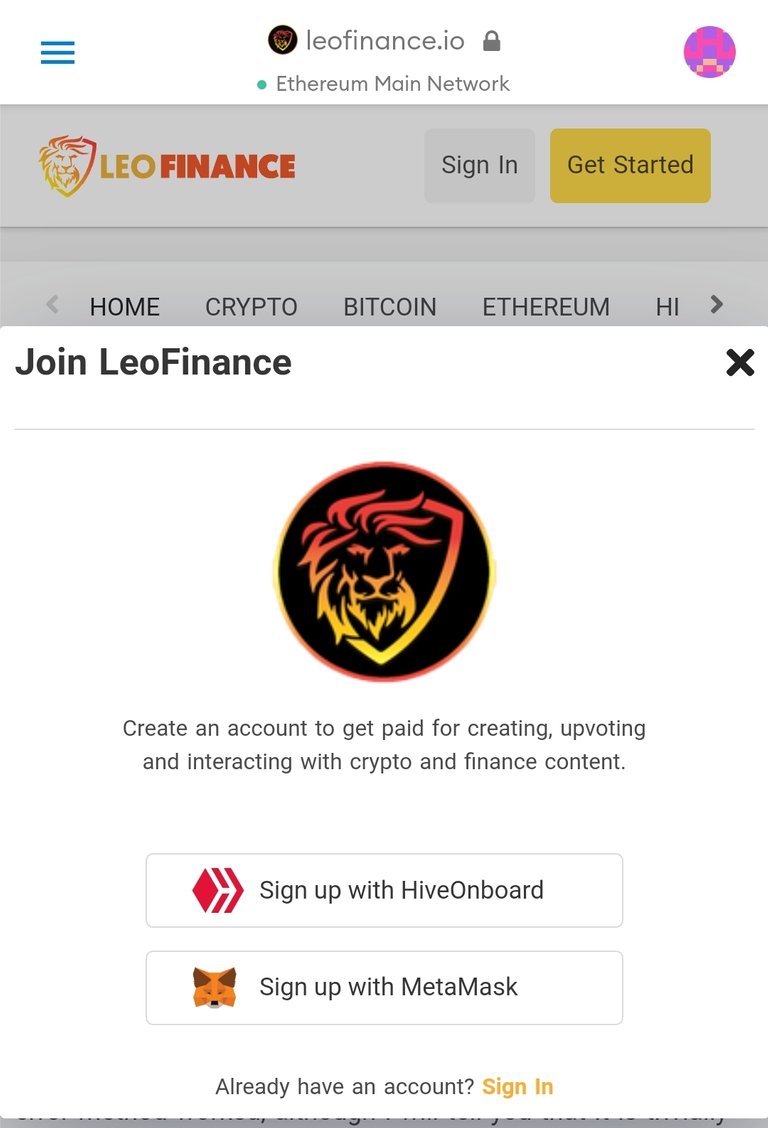 Now choose, "Sign up with MetaMask". A new box will appear directing you to choose your username. I've picked one to show you in the example below.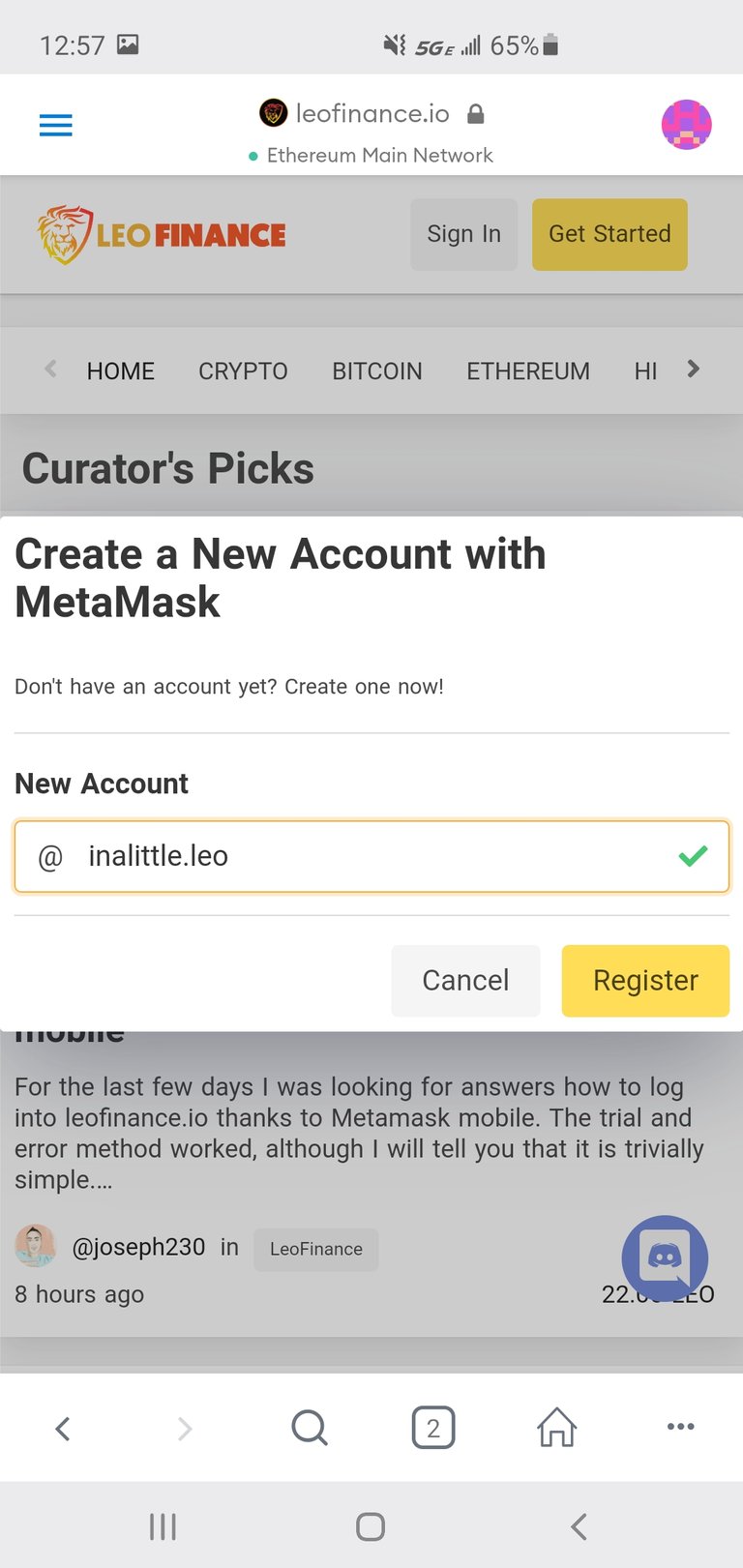 Once you've entered your username and see the green checkmark indicating it is available, click register. MetaMask will then ask you to sign for the transaction in a pop up box. Select Sign and wait for the transaction to go through. It shouldn't take more than a few seconds. See below.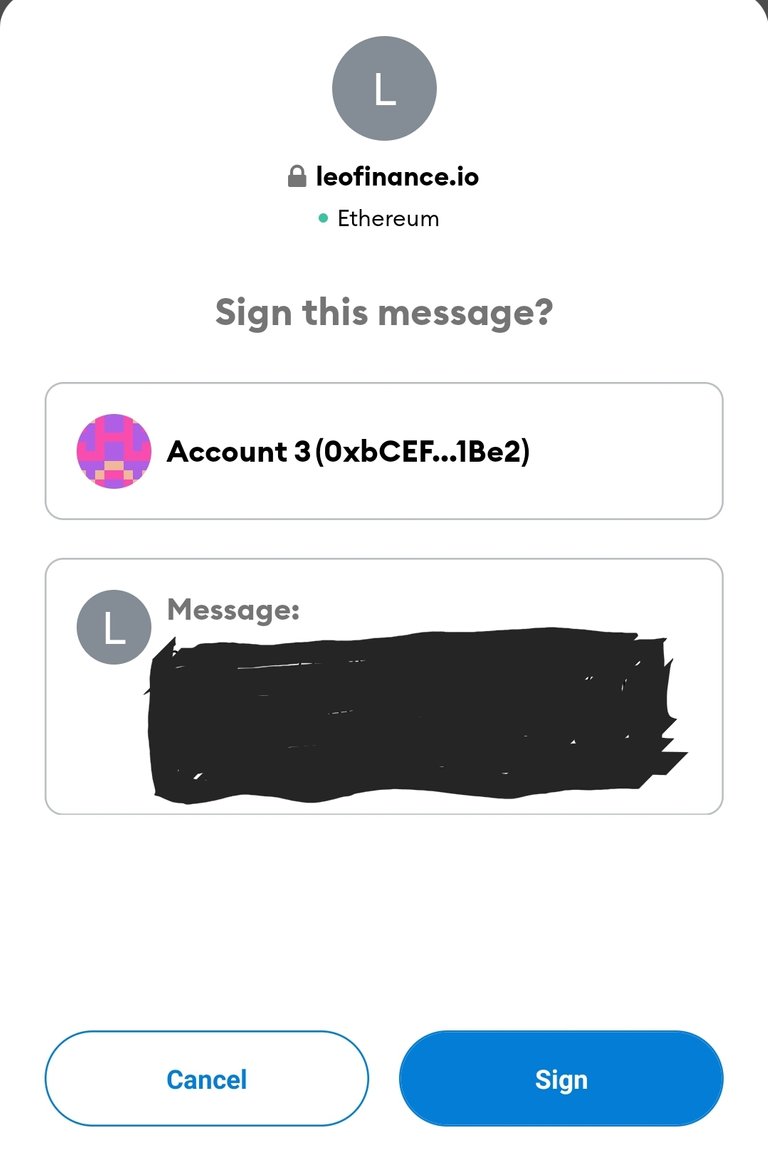 When the transaction goes through, an image will appear for a couple seconds welcoming you to LeoFinance.
Congratulations New Leo! Tell Us Who You Are So We Can Vote On Your First Post!!!
Once the welcome image disappears, you can explore the LeoFinance interface. Take a couple moments if you like and complete your profile. You can browse more by selecting the round LeoFinance logo at the top. A drop down menu will guide you to more options.
If you just can't wait and want to say hello to the LeoFinance community, hit the pencil and draft your introduction. You can always use the Discord tab on the bottom if you are having any trouble. Come over to the LeoFinance chat room and we'll be glad to help you.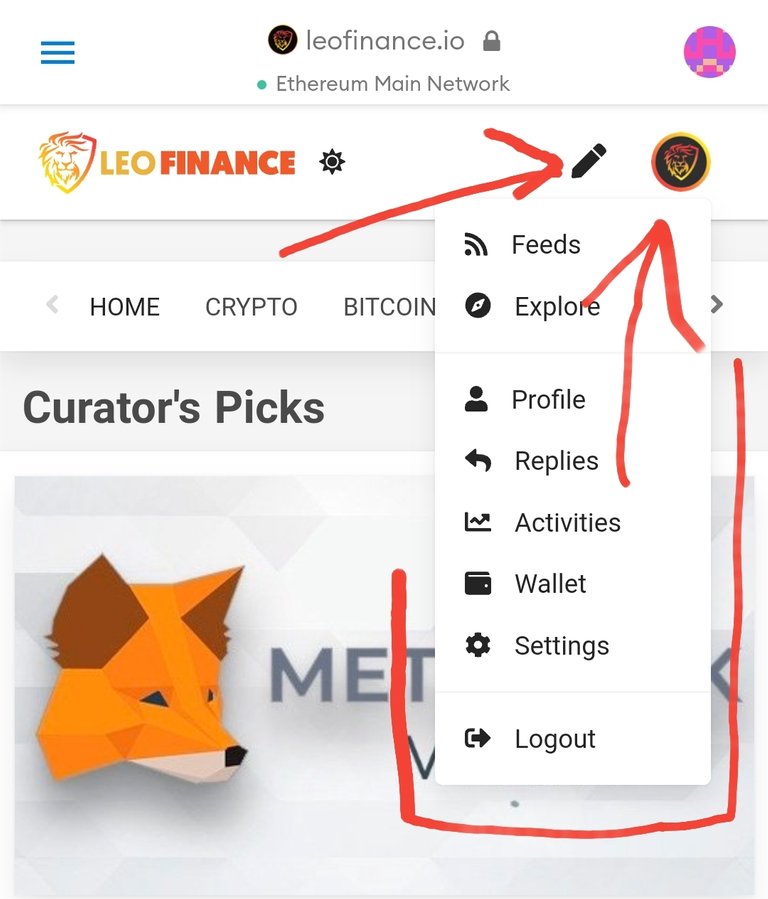 You'll notice in the drop down menu, you have access to your wallet. This is where you'll find the important account keys for later use. When ready, you can collect them here.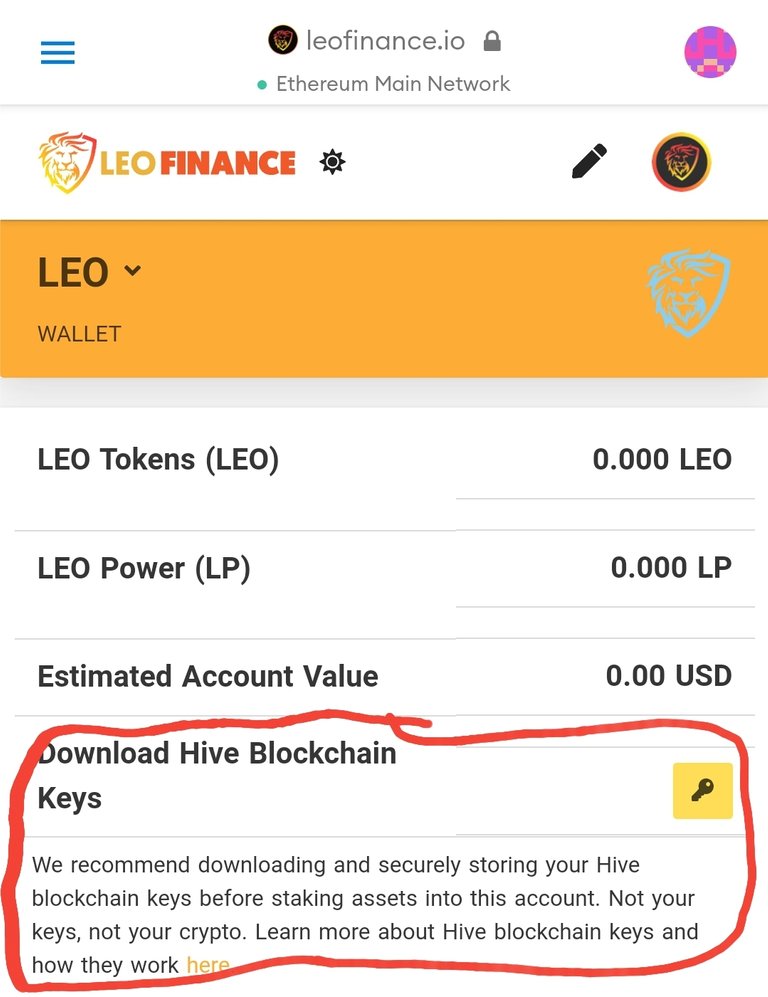 If You Don't Have A MetaMask Account, Grab One And Come On Over
Signup for MetaMask doesn't take very long either. Make sure to write down and store your seed phrases securely. Then put your new wallet to use and follow the steps above.
You'll find a gracious community of bloggers and vloggers, eager to welcome you aboard. LeoFinance offers the perfect place to build your crypto writing portfolio.
HIVE offers a world where bloggers and vloggers can do the same, outside the subject of finances!!
For you writers who have already built your brand, LeoFinance offers many streams of revenue to branch off of and profit. All without fear of losing your business to a bad foundation.
Whether you come to buidl your writers' portfolio or safely park an existing one, you'll be earning both LEO & HIVE to boot.

Thanks for your time. See you on LeoFinance and as always...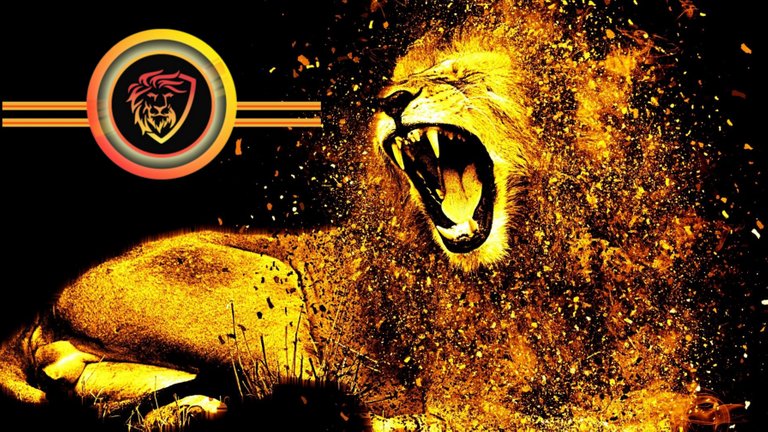 Images Courtesy Of Pixabay.com
Illustrations Via The Canva App
Images Captured As Screenshots
Bottom Image Courtesy Of Hive.io Brand Assets
Want To Join The HIVE Community? Use My Referral Link To HiveOnboard.com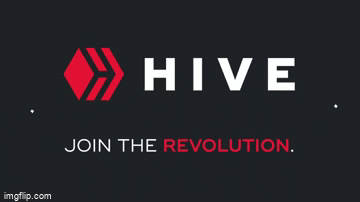 Posted Using LeoFinance Beta