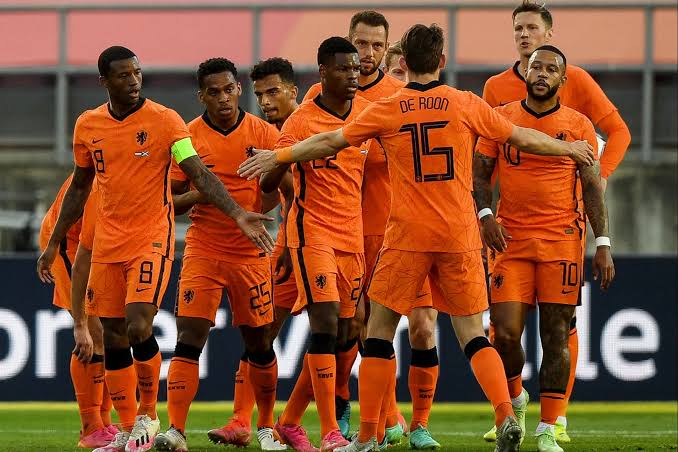 Image source
There were high expectations for Dutch national teams that were back in the fine company at a big national team finals after not qualifying for the European Championships in 2016 and the World Cup in 2018. The group ended up behind Germany in qualifying for this summer's European Championships and are favorites to advance in their group.
On Sunday night, they were to meet Ukraine, who surprisingly won their qualifying group ahead of, among others, Portugal. It was a showdown with goals, drama and comebacks at Holland's national home ground, Johan Cruyff Arena.
The first half ended surprisingly goalless after 45 minutes, where the Dutch pressed on and came to more chances. But only in the second half did the goals start to hail into both ends.¨
After 52 minutes, the newly announced PSG player, Georginio Wijnaldum intercepted a loose ball in Ukraine's field and hammered the ball into a free kick.
Just seven minutes later, Holland doubled the lead when Wout Weghorst kicked the ball in at the front post.
But the Ukrainians had not given up. With a quarter of an hour left, captain Andriy Yarmolenko took the matter into his own hands and kicked from distance. The ball flew into the far corner without a chance for Martin Stekelenburg.
Four minutes later, Ukraine managed to equalize when Ruslan Malinovsky on a free kick found Roman Yaremchuk, who nicely headed the ball into goal.
But with five minutes left, Denzel Dumfries secured Dutch victory. On a post from Nathan Ake, he jumped the highest in the field, and with a hard header he secured three points.
The match ended 3-2 to Holland over the hard-fought players from Ukraine and could, after a 7-year absence in a final round, rejoice over a victory.