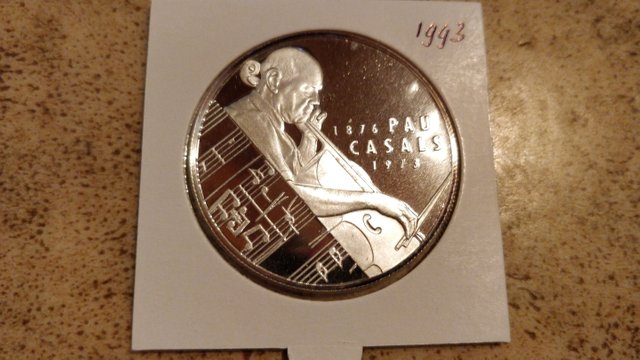 Rest assured, I'm not slacking off on my silver stacking duties! I've picked up some nice new stuff over time... mostly coins that have decent amounts of silver in them... and very very occasionally a proper fine silver piece. I've been also trying to properly catalogue my collection so that it will make it easier for me to keep track of... and to sell some pieces later. As I've grown better with the buying and getting more of a discerning eye for price and quality... I've found that I've got some coins that I am willing to part with, as I've later picked up better specimens of the exact same coin!
Anyway, I do keep a special eye out for Classical Music and Science based silver pieces... and am happy to pay a little bit more for these! I was pretty happy when I saw this come up with a trusted seller on Ebay...
It is a fine silver (0.999) round that features the legendary 'cellist Pablo Casals! The Numista entry for this 25 ECU coin can be found here.
Pablo Casals was a Classical 'cellist from Spain (Catalonia?) from the early 20th century... who really made a name for himself by bringing back the Bach solo 'cello suites back from obscurity. This set of 6 suites are not quite on par (in difficulty) with the Violin Unaccompanied Sonatas and Partitas and there is a still a bit of a question mark as to whether or not they are originally intended for 'cello... despite this, they are now an expected part of every modern 'cellist's repertoire... and many of the dances are quite recognisable, even to a layperson with little experience with Classical Music!
Interestingly enough, the performances of these works from the early 20th century master are more akin to the Early Music movement's reviews of the original intentions of the pieces (the idea that music is a form of rhetorical speech)... and are a far departure from the tone and beauty obsessed "modern" Classical musicians focus.
The above video is the first of the six Sonatas, one that is often given to beginners.... a travesty that has fallen much of earlier Baroque Music. The idea that it is "simple" has led to the fact that most people associate the music with less than accomplished masters... however, the real depth of musical thinking and mastery lies not in flying around the instrument... but also in the ability to make seemingly simple things speak... music is speech, not merely an acrobatic tightrope. Without meaning, it is just noise.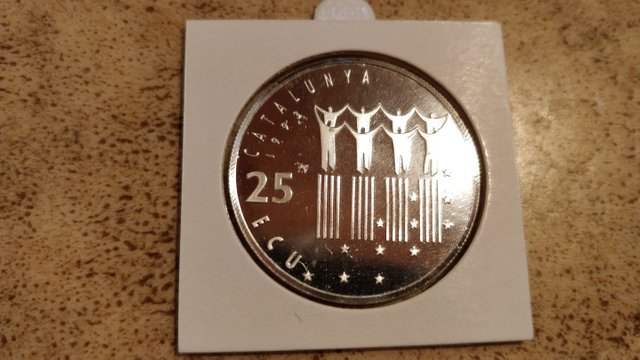 ... and on the reverse (hehe... back on topic!), is emblem and name for Catalonia... one of the Spanish provinces that hold some degree of autonomy from the national government. It is one that is sometimes on the edge of seperation from the Spanish state... however, it appears that it is often a touch less rowdy than their Basque cousins!

Look great whilst retaining your long term investment value! Mene has Gold and other precious metal jewelry for that special person or persons... or just for yourself! Sign up with this link to get $5 credit.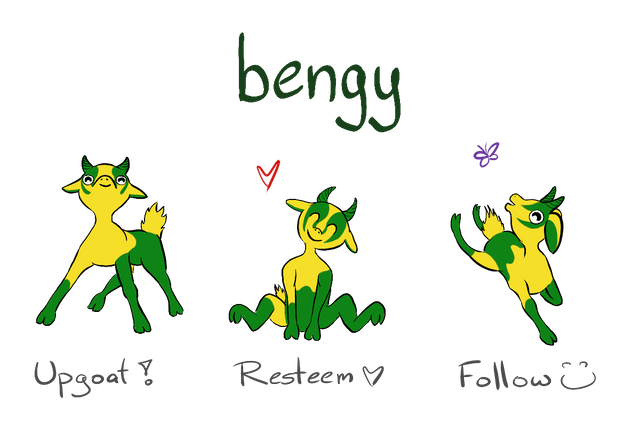 Upgoats by ryivhnn
Account banner by jimramones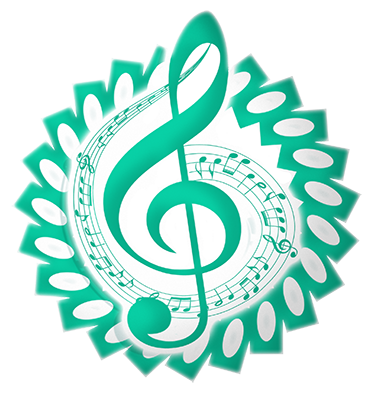 The classical music community at #classical-music and Discord. Follow our community accounts @classical-music and @classical-radio. Community Logo by ivan.atman

Keep Your Digital Gold Safe with Ledger
Ledger is one of the leading providers of hardware wallets with the Ledger Nano S being one of the most popular choices for protecting your crypto currencies. Leaving your holdings on a crypto exchange means that you don't actually own the digital assets, instead you are given an IOU that may or may not be honoured when you call upon it. Software and web based wallets have their weakness in your own personal online security, with your private keys being vulnerable in transit or whilst being stored upon your computer. Paper wallets are incredibly tiresome and still vulnerable to digital attacks (in transit) and are also open to real world attacks (such as theft/photography).
Supporting a wide range of top tokens and coins, the Ledger hardware wallet ensures that your private keys are secure and not exposed to either real world or digital actors. Finding a happy medium of security and usability, Ledger is the leading company in providing safe and secure access to your tokenised future!