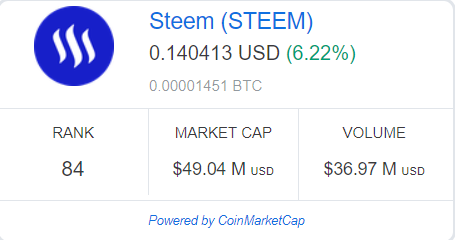 (coinmarketcap)

we have three full days before we can say bye bye
to October 2019.
#steem prices going up or down still remains at a stand till
around 13+- cents.
SPUD is a best way steemians to purchase and power up.
At this price it is no brainier not to do so.

#BTC rally from Saturday is holding on to the gain.
#steem have been trade heavily in #Bithumb.
Definitely an outliner worth mentioning.
More SPUD may eventually put a scarcity to the price.
#SMT might help in that regard.
#steem-engine is still doing his thing as well.

So happy By doing by #spud to the side I get to 20K SP.
I will continue holding and getting more #steem.
The faith I have to see #steem at $1 is really within reach.
The day is approaching when folks will realize posting on Steem is the best thing ever.
Just have to get out of the box and see decentralization.

I know the inflation will continue to dilute the value.
We need serious steemians to hold and we decide.
At this price it is an atrocity to sell.
Even though We need the sale, the trade, the exchange to put the #token
out there.
The true value of steem resides
when you power up giving you more say on the blockchain.
Can't wait to see the use case of resource credits on the hands of
regular users.
#Steemians , be ready to SPUD till your heart content.
Make sure you power it up when you are done.