Steem price is going up and it is imminent. Let me show you my 4hr chart vision: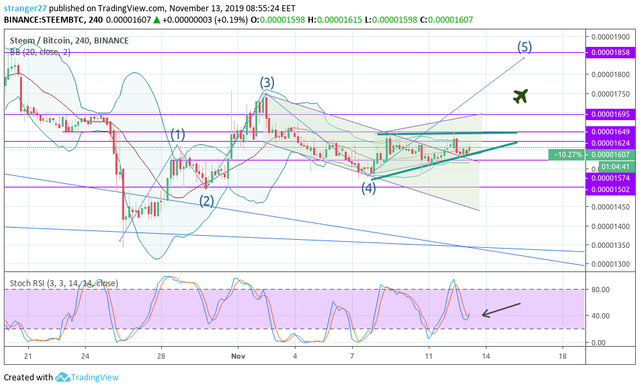 As soon as the price will break the ascending triangle, the price will go to the target at 0.00001860 level finishing the 5th wave of the current wave structure.
But before getting there , daily chart tells us that we can see the quick rebound from 0.000017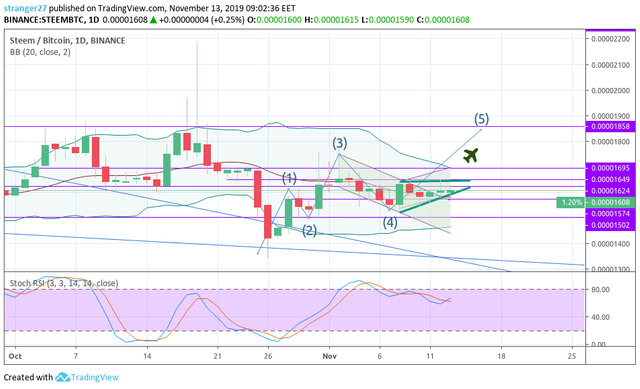 because of two reasons:
The upper line of bollinger bands lies at 0.000017 and I think it will be difficult for the price to break it at once
Bears would like to retest the upcoming breakout of current triangle
The level of 0.00001860 Steem/BTC is very important for the Bulls and they need to rise the price above it as soon as possible, because Stochastic RSI on weekly chart is in overbought area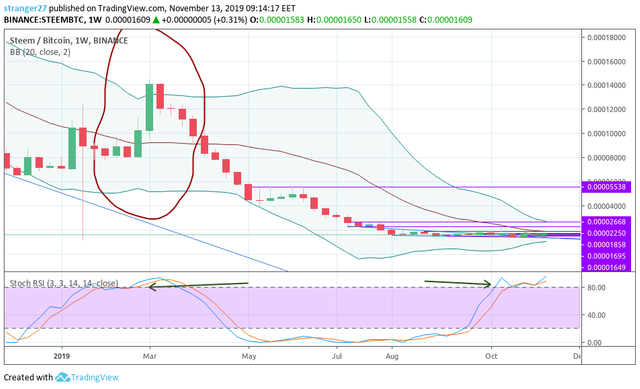 Still it looks similar to the state it was on the end of February - beginning of the March this year -
quick and huge surge in a couple of weeks and then long cooldown. And we have all chances that similar scenario will become real very soon.
Anyway, we should be prepared for the upcoming downtrend in mid term period. Note, I mean Steem/BTC price , not Steem/USD (that will possibly rise with btc but more slowly). When this period will start it will be better to move the funds into BTC until stochastic reloads.

Have a nice profit!