Over the last couple years I spent a great deal of time analyzing the distribution of Steem Power (MVests). I use the charts provided by @arcange for my analysis to see how things are trending.
Yesterday, in his post, I noticed there was a milestone hit. This was the Orca category surpassing 100K MVests.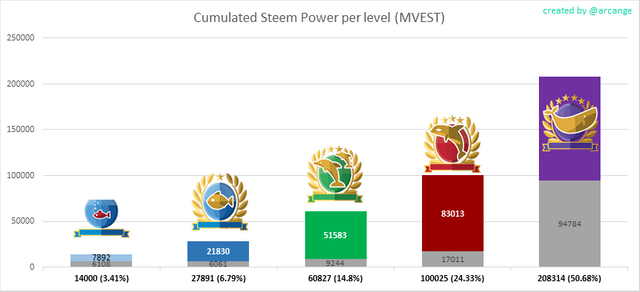 There are a couple points that are important here. To start, it is the number of accounts that are in this category.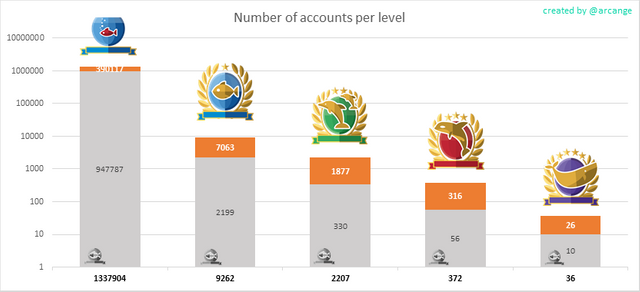 We now have 372 accounts with more than the roughly 50K SP that is required. The month that I joined, in August 2017, there were only 226 accounts that were at that level.
Here was the breakdown of MVest at that time (8/1/2017).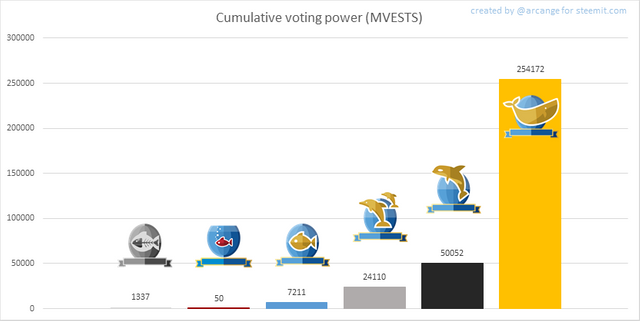 There is another important point. The total MVest of the Orcas is now 48.05% of the Whales. According to the above chart, in Aug 2017, it was 19.69%.
As a side note, we see the same thing popping up with the Dolphin (60.81 vs. 48.15) and Minnow (45.85 vs. 29.90) levels.
Thus, we are seeing the gap between the different categories closing as more people in each group are active. This is allowing the for amassing of more SP at a greater rate than the category ahead of it.
I will be doing a more in-depth post about the change in Steem Power over 2019 shortly after the first of the year.
However, I wanted to put this up since we reached a milestone. For a long time I stated how the Steem system was working. Most SP is getting into more accounts and spreading out the power base. While it is still skewed heavily to a handful of accounts, the format we have here enables time to alter the distribution.
The Orca category also shows how the distribution is further spread out than the raw numbers show. The fact that there are about 150 more accounts means the power structure is further decentralizing. We see the same thing with Dolphin and Minnow categories.
Essentially, it is easier now to find an Orca or a Dolphin that it was at any point in the past. As these categories keep growing, they will wield more influence over the network.
Orcas are now working towards 200K MVests while Dolphins are in hot pursuit of 100K.
---
If you found this article informative, please give an upvote and resteem.
---
Posted via Steemleo | A Decentralized Community for Investors